Design #050 – Inception24m
Highly efficient hull design derived from ocean racing yachts
Stylish dayboat with high levels of comfort for 12 day/4 overnight guests with 2 crew
Future proof diesel/battery/electric drive system
Lightweight build with high-speed foiling option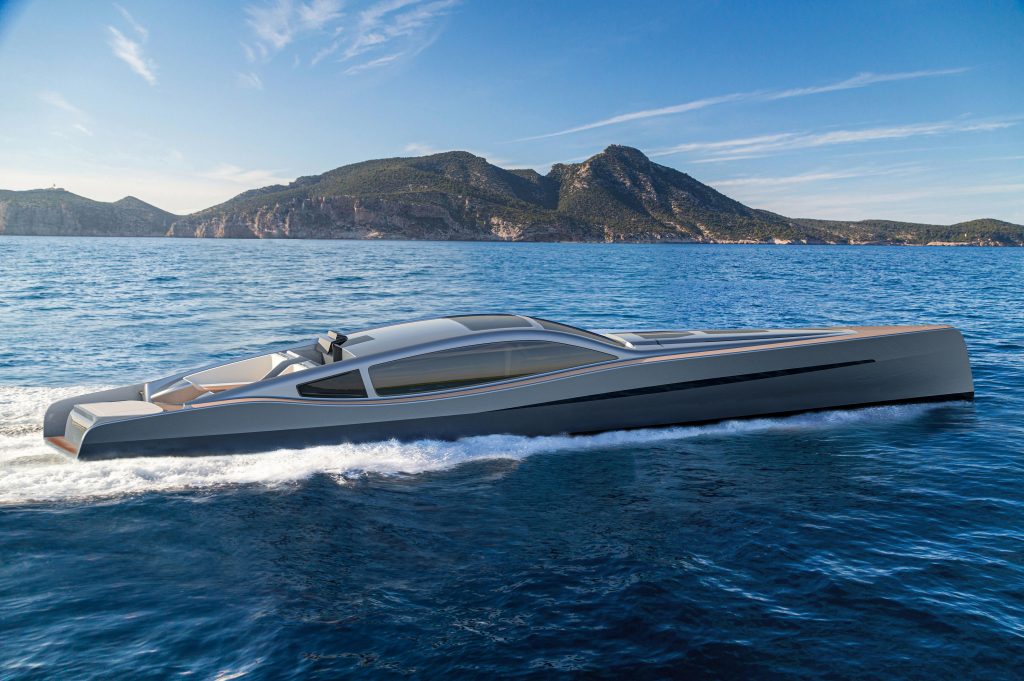 Design overview
Conceived as a counterpoint to the modern planing dayboat, the inception is about first principles and paring away the superfluous. The Inception 24 is the ultimate dayboat for a discerning boat owner.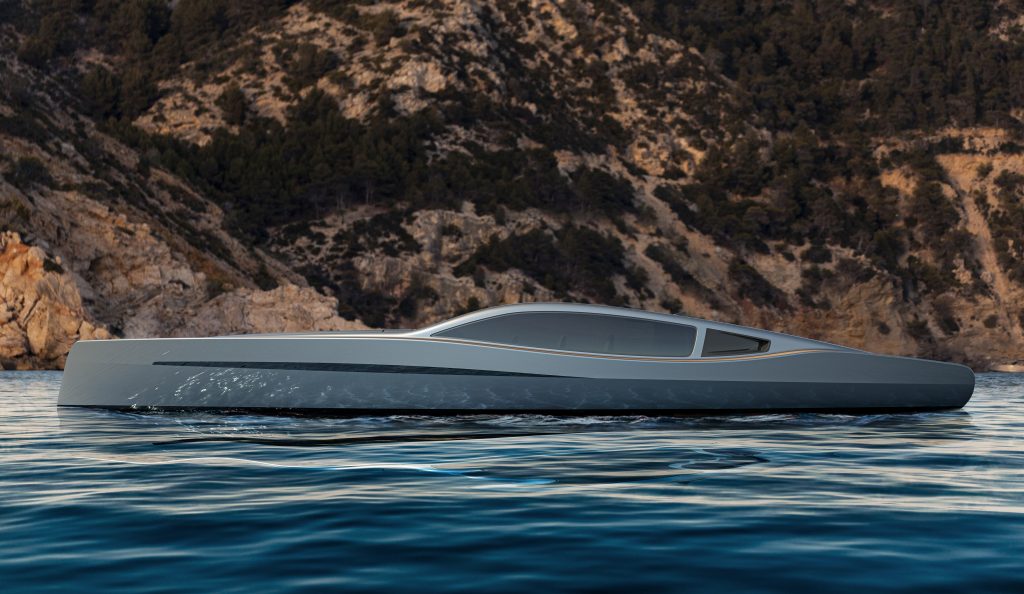 Efficiency and speed
A lightweight, narrow hull is designed for high efficiency at moderate speeds. The use of a modern hull form derived from ocean racing yachts, coupled with lightweight construction and fitout, allows the vessel to far exceed theoretical hull speed.
The single, highly efficient, ducted propeller is powered by a diesel-electric hybrid system. A large battery bank, combined with the electric drive, provides silent motoring for over an hour at 15 knots and much longer at lower speeds. This configuration is future proof, allowing technical innovations in power generation to be incorporated into the drive chain.
If more speed is desired, a fully foil borne, electric drive solution will be available, making speeds beyond 40 knots possible.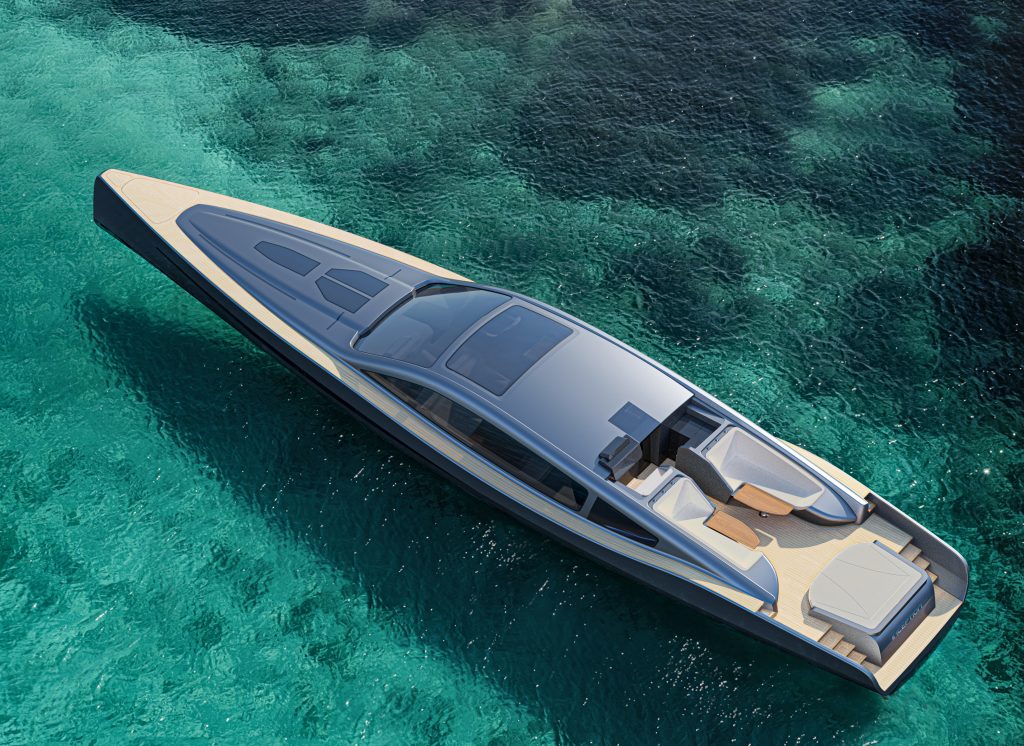 Comfort
The narrow hull form has additional benefits that are not so obvious. A narrow beam significantly lowers wave energy transferred to the vessel in the form of roll motions. This makes the onboard gyro stabiliser extremely effective at minimising roll. Comfort is further achieved with the active water ballast system, which automatically and silently counters static heel due to passenger or wind loading. Together they create a steady, comfortable ride experience, usually only seen in a vessel of much larger size.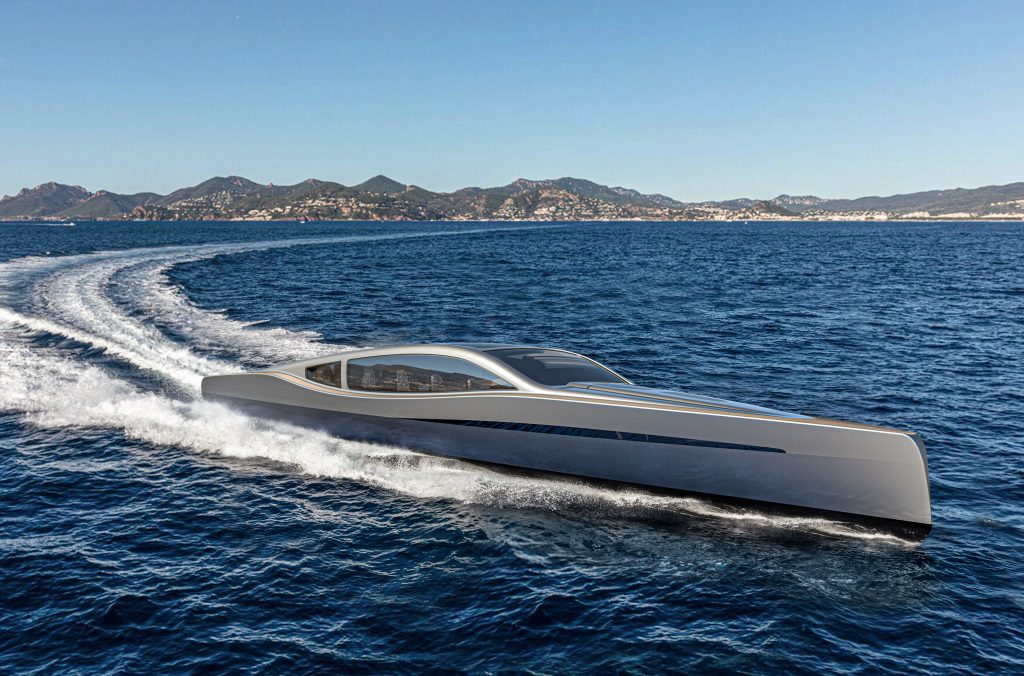 Function and style
The layout is designed to accommodate a small number of people in luxury. The layout is suited to 4 guests overnight or up to 12 on day trips, with 2 crew. The main lounge area is set up with casual seating designed for comfortable commuting, business meetings or simply relaxing. Forward there are two cabins, ensuite and a sunken galley. Aft there is an open deck area with outside helm, twin settees, and a large sunbed with tender storage under.