Comfortable, stylish and efficient, this vessel offers a refreshing interpretation of the contemporary tri-deck motor yacht type.
The Bury Design hull form and sheer create a distinctive looking vessel with purposeful lines. The long water line length and well-proportioned volume creates a vessel with unsurpassed usable space for her length and displacement.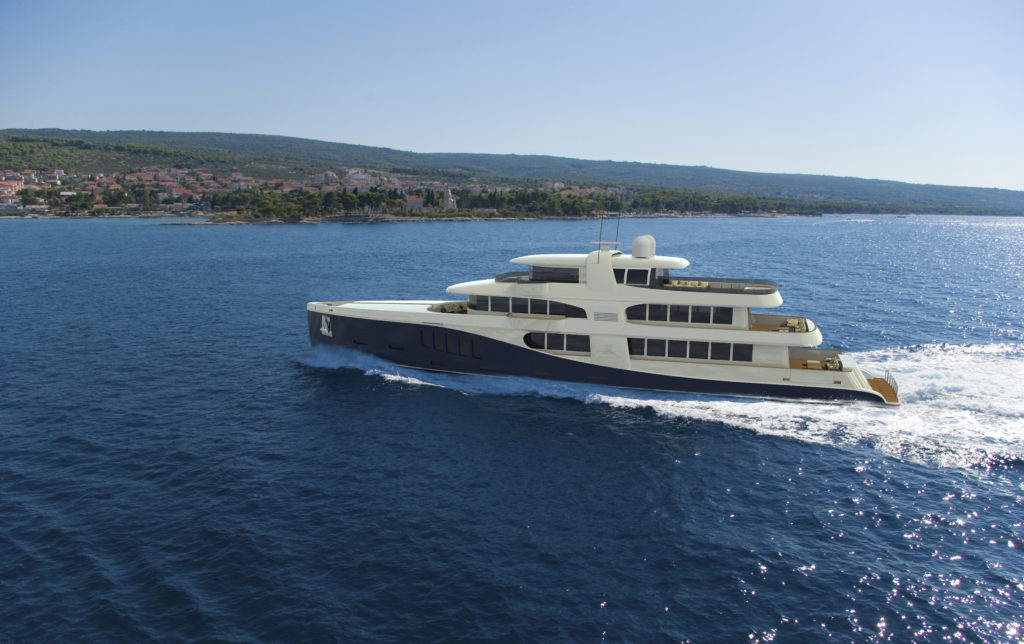 TECHNICAL DESCRIPTION
The hull form of the 155 is a high-efficiency displacement type with a narrow waterline beam to allow for reduced power requirements and increased comfort in a seaway. Couple this with the long waterline length and well-proportioned underwater shape and the result is a vessel that is very economical to operate with an ocean crossing range.
The hull, deck and supporting structure is constructed of marine grade aluminium, engineered and built to ABS standards. Lightweight and robust, the structure is engineered to maximise internal spaces whilst being strong and efficient.
Propulsion utilises twin Caterpillar C32 marine engines driving conventional propellers sitting in twin tunnels aft. Twin 20", 100hp hydraulic TRAC bow thrusters forward coupled with twin screws offers excellent manoeuvrability as well as reliability of operation. ABT TRACSTAR (Stabilization At Rest) fin stabilisers coupled with the narrow hull form give the vessel excellent roll and pitch motion, even at rest.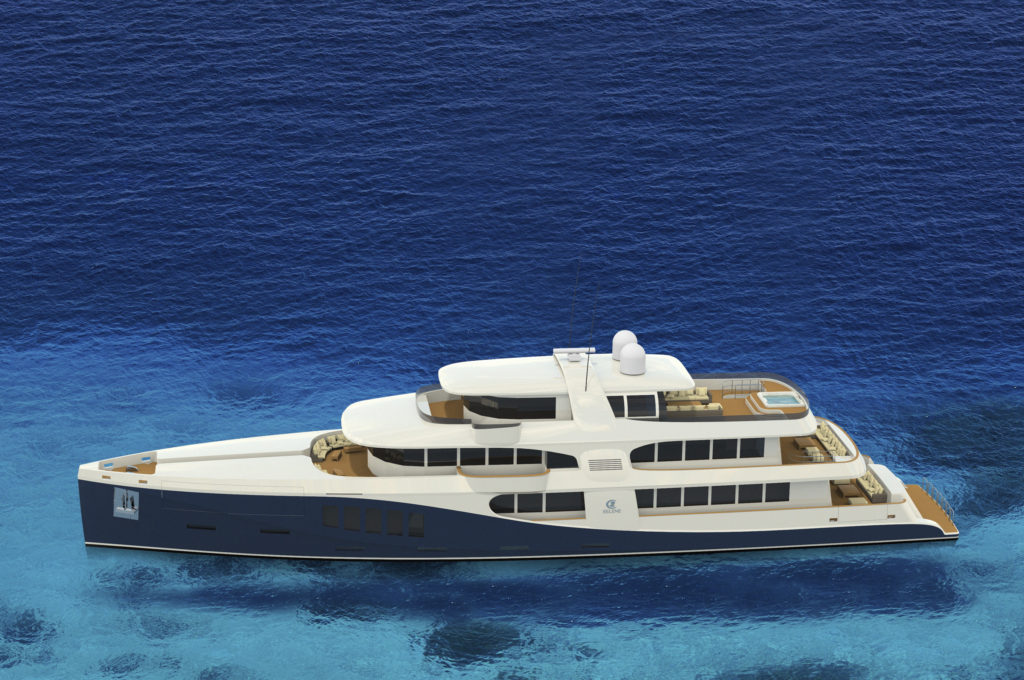 ONBOARD ACCOMMODATIONS
Featuring guest accommodation for up to 12 on 3 separate decks, this vessel offers luxury accommodation for all those onboard.
On the lower deck there are 4 spacious guest cabins each with en-suites. On the deck above there is a full beam VIP cabin with floor to ceiling windows each side. Aft of this and leading out to the aft deck is the main dining and saloon areas.

The owner's deck is above and features the owner's cabin and lounge. The owners cabin has panoramic windows giving uninterrupted 180 degree views. There are twin private terraces and his and hers bathrooms featuring a tub looking out to port.
Above, on the bridge deck, the enclosed pilothouse is forward, with a bar and outside sun lounge aft. A 6 person spa bath is situated outside with sun-beds each side.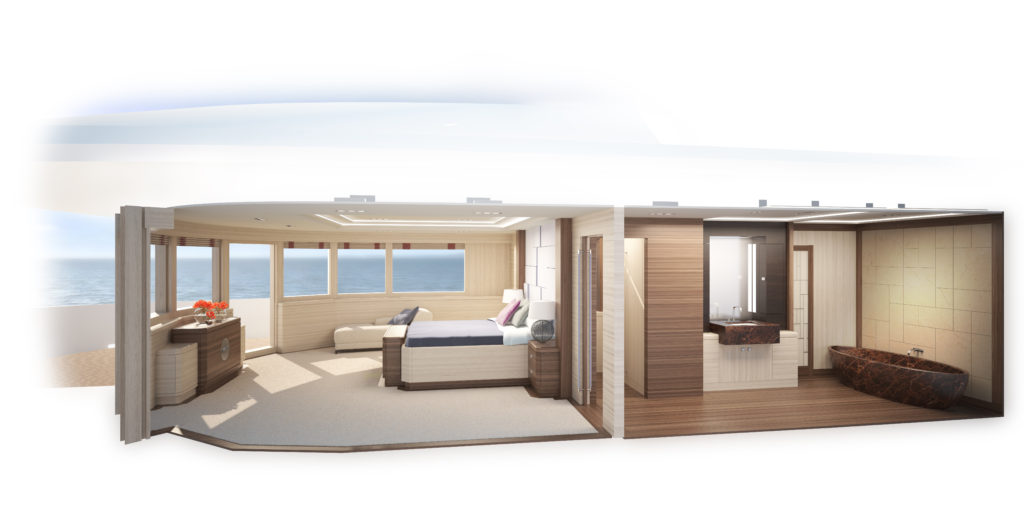 WATER TOYS, TENDERS AND SUBMARINE HANDLING
The 155 is designed for fun on the water and incorporates a large range of design features to facilitate this.
Forward are two large tender hangars, each capable of launching, retrieving and storing a 7m tender. Aft, opening out onto the bathing platform, is the beach-house area featuring enclosed head/changing area and bar.
Immediately forward of this is the lazarette area that can be configured to suit a range of functions. Typically this area would store an assortment of watercraft such as sailing dingy and jetskis. One configuration houses a deep diving personal submarine.
This 2-man submarine, the Triton 1000/2, features a transparent pressure hull rated to 1000 feet and offers the ultimate experience for the two occupants. The submarine is stored in a dedicated hangar with all equipment necessary for its support. Launching is through an overhead hatch via an inbuilt retractable overhead crane system.