Design #16 – Class40 racer
With the runaway success of the class40 in Europe, this yacht meets all class requirements and limitations while providing a very comfortable cruising interior. Designed with maximum sail area and at minimum allowable weights this boat is optimized as a more general purpose ocean cruiser/racer rather than a flat out reacher. To this end the yacht has slightly less beam overall than the rule maximum of 4.5m, while beam on the waterline is reduced as well, lessening the wetted surface as much as practicable while still retaining good form stability. Couple this with the generous 3m draft and water ballast and this design is outstanding in terms of power to weight.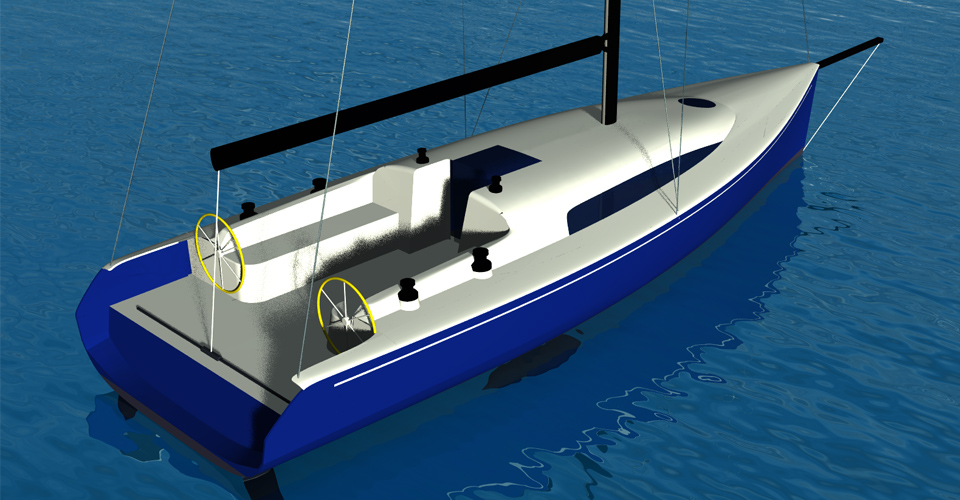 Built from vacuum resin infusion techniques using PVC foam, E-glass and vinyl ester resins, the yacht is designed to have a stiff, light and robust structure. The rig is twin 22˚swept spreader carbon with twin running topmast backstays and intermediate runner. Twin rudders are featured, offering minimum drag and high performance for a vessel of this beam. The keel is a tapered steel foil with a lead bulb suspended below. 750 litre water ballast tanks feature each side add to the outstanding righting moment upwind, whilst still retaining light displacement off it.